Summer Camp @ I Grow Chicago means AAC leads "Art Wednesdays" which culminates with teaching garden signs painted by the teens.
AAC paints Six Corners Association's BBQ Fest with their own "Have-A-Seat" project designed and executed by Amy Jo Arndt.
Turning storm damaged trees in to art in Virginia 
Foodseum Map designed by Amy Meadows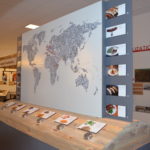 School Projects
Art Shows
Eagle Scout Projects
In the past we have been partners with area businesses and community to create poetry projects in schools, honor our seniors, decorate our benches, jazz up a festival and sing in the holidays to name a few.